Udemy courses are still in high demand, despite the proliferation of other online teaching platforms. Teachinguide stats show that 1.17 million new enrollments were made in Udemy courses just in the past 3 months. 476 new courses were launched and 127,000 new Udemy course reviews were made. These numbers are staggering when you think about it.
So, with numbers like these you might be wondering what then are the top Udemy courses among the thousands and thousands on the platform? Where are all these new enrollments going? What topics are hot? If you are serious about getting your own courses to rank among the top Udemy courses, then it's important to be up to date on trends.
So this week we decided to take another look at what top Udemy courses are trending based on which courses are getting the most reviews in certain subcategories (there are too many subcategories to cover in one article). We covered Udemy search and what factors influence rankings in a previous article that you might want to review. We are only looking at paid courses – after all, you want to know what people will pay to learn, right?
20 #1 Ranked Udemy Courses and Subcategories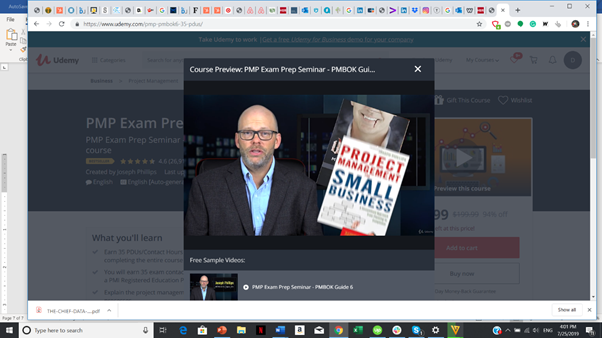 Following is a list of 20 Udemy courses that rank #1 in terms of reviews for their subcategory.
Complete Python Bootcamp: Go from zero to hero in Python 3 – Programming Languages
Microsoft Excel – Excel from Beginner to Advanced – Microsoft
Machine Learning A-Zâ"¢: Hands-On Python & R In Data Science – Data and Analytics
The Web Developer Bootcamp – Web Development
AWS Certified Solutions Architect – Associate 2019 – IT Certification
The Complete Digital Marketing Course – 12 Courses in 1 – Digital Marketing
Complete C# Unity Developer 2D: Learn to Code Making Games – Game Development
Cognitive Behavioural Therapy (CBT) Practitioner Certificate – Mental Health
Learn Ethical Hacking From Scratch – Network and Security
The Complete Financial Analyst Course 2019 – Finance
The Ultimate MySQL Bootcamp: Go from SQL Beginner to Expert – Databases
The Ultimate Drawing Course – Beginner to Advanced – Graphic Design
PMP Exam Prep Seminar – PMBOK Guide 6 – Project Management
Photography Masterclass: A Complete Guide to Photography – Photography Fundamentals
Selenium WebDriver with Java -Basics to Advanced+Frameworks – Software Testing
An Entire MBA in 1 Course: Award Winning Business School Prof – Entreprenuership
Facebook Ads & Facebook Marketing MASTERY 2019 | Coursenvy – Social Media Marketing
Docker Mastery: The Complete Toolset From a Docker Captain – Development Tools
Pianoforall – Incredible New Way To Learn Piano & Keyboard – Instruments
Complete Blender Creator: Learn 3D Modelling for Beginners – 3D and Animation
Top Udemy Courses – Characteristics
Loooooong Duration
By now you should know that the duration of your course partly contributes to its ranking. The shortest course in this list is just over 8 hours long. That said, the majority of these 20 courses are well over 10 hours long, with some such as Complete Blender Creator: Learn 3D Modelling for Beginners over 50 hours long.
Takeaway #1: Expect to create a very long course if you want to rank among top Udemy courses.
Ability Level – All!
The large majority of these 20 courses caters to the "All Abilities" level. It's a little strange because, for example, Complete Blender Creator: Learn 3D Modelling for Beginners specifically states in its title that the course is "for beginners". Hmm.
Takeaway: Unless you have a strategic reason to market your course to a certain ability level, check "all levels" to capture the most eyeballs.
Number of Enrollments – Bazillions!
Since most of these top ranking Udemy courses are between 1 and 1/2 years old, they've had plenty of time to get enrollments. In fact, the course on this list with the lowest enrollment has about 76,000 students, but most of these courses have well over 100,000 enrollments, many with 300,000 or more.
Takeaway: It takes time to build up enrollments and thus your ranking, don't give up after a few months! You can always update your course, promote it more, etc. $10 X 100,000 students = $ 1 million – it's worth the wait and effort!
Reviews, Ratings, Engagement
We've written before about the importance of all these factors. Top Udemy courses should, of course, have a plethora of reviews. The courses listed above have tens of thousands of them. All of the courses are rated above a 4.5, closer to 4.6 and higher, except for the MBA course which is rated a 4.43 – still high. That said, engagement surprisingly ranges quite a bit from about 12 up to 36.
Topics
No surprise that a lot of these courses fall into tech-related topics. Nevertheless, there are some more "rare" topics that prove you can garner hundreds of thousands of students with any topic. For instance, Pianoforall – Incredible New Way To Learn Piano & Keyboard falls under the Topic "Keyboard Instrument" and the subcategory "Instrument". You might think this wouldn't be a high demand online course topic, but this course has 186,000 students, and according to our data is getting about 2,500 new enrollments per week.
A good example of "topic manipulation" in order to get more students is the MBA course. It is listed under the Topic "business fundamentals" and the subcategory "Entrepreneurship" (as opposed to management or strategy, etc.). We all know that an MBA is not only for entrepreneurs but categorizing the course as such on Udemy is likely a way for the author to be more competitive in rankings.
Takeaway: You don't need a tech topic to achieve top Udemy course status. You can be clever in your topic and subcategory selection and gain thousands of students.
Landing Pages
The course "An Entire MBA in 1 Course: Award Winning Business School Prof" is an excellent example of a professional using his existing content, connections and expertise to create a Udemy course for passive income and branding. The instructor's landing page establishes very clearly the course value and the instructor's authority on the topic. Here are the first few lines:
#1 MOST PURCHASED BUSINESS COURSE ON UDEMY! ** OVER 200,000 STUDENTS IN 196 COUNTRIES **
** ACCORDING TO BUSINESS INSIDER: "Getting your MBA has never been easier. Haroun is one of the highest rated professors on Udemy, so you can expect to be in good hands through the course of your education." **
** SPECIAL $99 BONUS: FREE 384 PAGE MBA BOOK INCLUDED ($99 value).
And here's part of another top Udemy course description:
Pianoforall is one of the most popular online piano courses with over 200,000 students worldwide
Now ANYONE Can Learn Piano or Keyboard. Imagine being able to sit down at a piano and just PLAY – Ballads, Pop, Blues, Jazz, Ragtime, even amazing Classical pieces? Now you can… and you can do it in months not years without wasting money, time and effort on traditional Piano Lessons.
An Incredible Set of Videos and ebooks (9 books, 600 pages)…
Takeaway: Are you seeing a pattern here? Brag about your students, promise big benefits and give away highly valuable content. Make sure your most recent review is 5 stars!
Promotion
We looked at how a few of these instructors might be promoting their courses. One example is instructor Rahul Shetty who teaches "Selenium WebDriver with Java -Basics to Advanced+Frameworks". He does have a YouTube channel where he gives "free" content such as this YouTube video on "Selenium Interview Questions with Answers". In the video description he promotes his Udemy course, providing a link. He also starts his video with a Udemy cover page. Rahul promotes his course through this hour long video several times. Apparently, given his ranking this works!
However if you look closely at the comments, people are a bit annoyed that he is promoting his course so much during this "free content" tutorial. That said, he has over 220,000 views – no doubt this has driven traffic to his Udemy course.
Let's look at another one – Bret Fisher who teaches the top Udemy course in Docker (don't ask us what that is!). Bret has a YouTube channel with over 5,000 subscribers. He hosts a weekly show on the topic answering questions. He also has his own website which he advertises in his YouTube channel description. If you go to his website, you will see a host of resources, 9 ways to follow him on social media, links to videos and conferences talks and much much more.
Speaking of promotion, thanks for reading this article! Here' s a link to our free Udemy course coupon codes. You'll find that several of the top ranking Udemy courses in this list, such as "Complete C# Unity Developer 2D" are offering discount codes.
Takeaway: You've got to create a marketing machine to rise to top Udemy course status. There's no getting around that! If you are overwhelmed at this idea, refer to Takeaway #3.
Top Udemy Courses – A Summary
While we could go into much more detail analyzing why these courses have been successful and what you can learn from them (you can try our Teachinguide app for free if you wish to do so), it's clear that these course instructors have been following some basic course promotion tips – not the least of which is keep at it!
They all give incredible value with tens of hours of lessons, including valuable downloadable content such as ebooks. They have Youtube channels and instructor websites that provide a lot of additional free content and student support. They have amassed tons of enrollments and reviews over time, while continuously updating their course (many were updated this month even though they are over a year old).
It just goes to show that no matter what your course topic, you can make money on Udemy, even with all of its competitors. You just have to work to create a quality course and get great reviews as a consequence!