Teachinguide's platform aims to provide online instructors with the tools they need to grow their online course audience and sales.
We've found that with over 57,000 Udemy instructors and over 100,000 Udemy courses (and growing), that, for instructors, it's very difficult to get the information and insights you need to be competitive.
It can be overwhelming to try to find great course topics and the right keywords to target while searching through hundreds of course categories and sub-categories.
Teachinguide makes it easy for instructors to get the full picture of what's happening on Udemy and with your courses.
What's more – ever since we conducted our online instructor survey one year ago, we've been taking your feedback and using it to improve our product and service.
As a reminder, here's a summary from the survey of what you told us your top challenges are as a Udemy instructor.
| | |
| --- | --- |
| Issue/Challenge | % ranking it as somewhat or very important |
| Promotions (improve reach/optimized/manage) | 95% |
| Udemy SEO (understand/optimize) | 90% |
| Review Management (responding/opportunities/strategies) | 90% |
| Competition (identify/monitor/strategies) | 85% |
| Course Dashboard (analytics) | 85% |
| Course Topic Research (demand/audience) | 81% |
| Marketplaces (understanding learning platforms) | 76% |
| Creating a Course | 71% |
Announcing Teachinguide's New and Improved Dashboard
Having studied these challenges over the last year, and have thought about how we could address them with the Teachinguide tool, we're very excited to offer instructors a new and improved version of Teachinguide's Instructor and Course Dashboard!
The new version will provide you with an improved look and feel. In addition, it will provide you with even more competitor information and course insights, all in a more user-friendly fashion.
The best part? You get a better product and service at a lower cost! More on that later!
New Features and Benefits
First, let us introduce you to the newest features and benefits of the Teachinguide platform.
Some of your new opportunities with Teachinguide include:
Instructor and Course Dashboard
You have all the statistics (over 12) that you need to closely monitor your course and enrollment performance. You'll also have access to the full Udemy course database – that's over 100,000 courses – and all the information you need about them to run your online course business better.
Increase rankings and course ratings
Improve your rankings by finding the best keywords, increasing positive reviews, finding the best price and promotion strategy, and more, using Teachinguide data.
Optimize your reviews and get your reviews management right. Get ahead of negative reviews.
Promote your course coupons better using Teachinguide's coupon page – one of the largest and most highly visited coupon pages on the internet! Batch upload coupons, track your coupon performance and that of your competitors, too.
Monitor your competition more closely
In addition to tracking competitor coupon performance, you can see and monitor over 12 performance statistics for your competitors for your chosen course Category, Sub-category and Topic.
Discover new opportunities and course topics
Easily discover what you should teach now or next using Teachinguide's niche keyword recommendations, topic research tools, keyword trend information, and sub-category browser.
In combination, these capabilities at your fingertips in real-time can put you well ahead of your Udemy competition!
Introducing the Teachinguide Google Chrome Extension!
The new Teachinguide Google Chrome extension is a powerful, easy to use tool that will help you in your course research efforts and save you a lot of time and money in the process.
You can download it from the Google Play store here.
This extension will make researching your course topic, keywords, and competitors from right within the Udemy platform much much easier and insightful.
With the Teachinguide Chrome extension tool, you get important data and insights on five Udemy page-types
1. Categories
See a list of all courses for your chosen Udemy course Category. See trends, average monthly enrollments, average monthly engagements, and 12 different statistics for each course in the Category.
As you look at courses on a Udemy Category page, the Chrome extension tool allows you to view the complete enrollment history for any course, including reviews. You can also see if the course is trending and if excessive promotions have been used to get enrollments.
2. Subcategories
As with course Categories, you get all the same statistics for your chosen Subcategory search on Udemy.
Most useful perhaps in the Subcategory view is the new "opportunity score" located at the top of your screen using the Chrome extension tool. This score ranges from 1-10 and represents the overall profit potential of the niche topic on your screen.
The opportunity score is based on an analysis of demand and competition for the Subcategory or Topic. The tool provides you additional insights on each of these two factors.
3. Topics
No course topic ideas? No problem!
If you don't have any idea of what course you want to create or what Categories and Topics will be most in-demand, you can use the Chrome tool's niche keyword function. It will give you a broader picture of the search terms appropriate for your target course Topic.
This view also presents you with an opportunity score for each relevant keyword phrase, which will give you an idea of the Topic's potential.
4. Keyword rankings
You get many new insights into keywords using the Teachinguide Chrome extension. Engage the extension tool and it will show you a dashboard of related courses for a keyword, individual course enrollments, as well as averages for enrollments, students, reviews, course badges, keyword trends, and much more.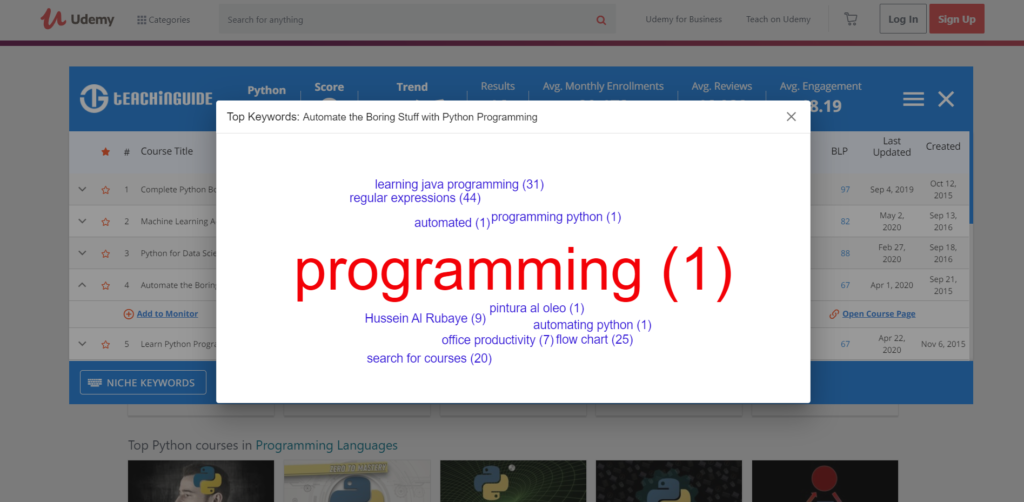 You can access keywords that any course you're interested in (i.e. a competitor's course) is ranking for. The tool will then show you a "word cloud" of relevant keywords, that shows you the rank of that particular course for those keywords.
In addition, the size of the keyword phrase text in the word cloud tells you the relative search demand for that keyword within Udemy. This information is the best indicator of your sales potential for the keyword.
Using this more powerful keyword tool you can craft better course titles and descriptions that are relevant to Udemy search results and which rank for the most relevant keywords. Teachinguide's extension will also recommend niche keywords to consider, giving you a head start on your competition.
5. Instructors
Search your competitors or your favorite instructors within Udemy. You'll see their ranking on Udemy, the entire list of courses they offer, average monthly enrollments across all courses, and all of their course by course statistics. It's a great way to see what your competition is doing and learn how to be different or better, and what you need to watch out for.
If you are already an instructor or if you are new to Udemy, finding the right courses to teach on Udemy and learning how to optimize them for ranking would be a very time-consuming process.
Not anymore – with the new Teachinguide chrome extension, you can gather all the data you need in minutes!
Ready to try the new Teachinguide Chrome extension? Download it here!
Once you've downloaded it, be sure to check out our Chrome extension tutorial here.
New Teachinguide Pricing Promises High Returns!
Because we believe so strongly that our upgraded Teachinguide dashboard and Chrome extension can help you gain an edge on the Udemy platform we want it to be as accessible as possible.
So we're offering all of these improvements at a reduced cost!
We'll be reducing the pricing for instructors from $39/month to $19 per month. If you sell just ONE course more per month due to the insights you glean from using Teachinguide, you will have a positive return on your investment.
In addition, your subscription is a flexible month to month arrangement. Use it only when you need it!
What's more, you can engage easily in a free 7-day trial. So, you have nothing to lose by trying it out and only extra course sales to gain!
Try the new Teachinguide Instructor Dashboard free!
---