The Importance of Working to Build an Audience
How are you feeling about the size of your online course audience? Maybe you just uploaded a course in the run up to Black Friday your audience is zero right now. Maybe your audience is just not big enough and not growing to your satisfaction. Maybe you are selling a few courses but wish sales were more consistent or would propel you to the next level of "edupreneurship".
We've written quite often about the importance of knowing your target audience, pre-selling your courses (ie. via a pre-sales funnel), growing an email list and so forth. The reality is, these audience-related activities take A LOT of SUSTAINED effort.
Sure, you might get lucky because your topic is a "hot" one like "Python for Beginners", and so your sales take off, leaving you to believe that there's nothing more to do. But even so, if you're not continuously cultivating your audience, sales will not be optimized, or worse, they'll taper off over time instead of growing.
Building an audience – and a loyal and engaged one at that – isn't easy. The internet is riddled with stories and complaints from online course creators who complain of putting a ton of time into creating and launching courses and getting very few sales.
While there are a number of contributing factors to poor course sales, a lack of target audience cultivation is at the heart of many failed attempts at selling courses online.
It's not enough to know your audience. You have to build and nurture that audience. Constantly.
Think of it as a theater audience analogy. You're the performer and you need to sell seats to your show and make sure that people love the show, stay in their seats until the end and then go home and rave about your show. And when you put on a second show, you want them to come back and bring their friends.
10 Ways to Build an Audience
So how do you build an audience for your online course that will buy your course(s), sustain and grow sales? How do you get and keep people in their seats?
Here's a few ideas to considering focusing your efforts on. Some of them overlap, so if you focus on a few of these over time, you're likely to address all of them at some point.
1. Devote enough time to audience building
First off, like anything worthwhile in life, whether it be losing weight, forging a career or learning how to create online courses, you must decide to put in the time. Would-be online instructors chasing passive income by putting online courses on Udemy don't always want to spend a lot of time on audience building or don't realize that they need to.
Realize and accept that creating a highly engaged audience is not something that happens overnight. There's no magic bullet for attracting lots of students.
Decide right now that you are going to carve out an hour a day, every day, or you will write and circulate 2 posts a week. Put it in your calendar for the next 6 months.
Think about what needs to be done after reading the rest of this list and choose to commit the time. Which brings us to the next tip…
2. Spend time planning and creating content upfront
You're going to need to provide something of value to potential readers and your audience to engage them. It should be something that they will see as valuable enough to give you their email and permission to continue contacting them. Why? As the graph below shows, email is the single most powerful tool you can use to control your relationship with your audience and grow it.
Brainstorm a list of topics to write about and create content around. The good news is that if you've already started creating a course, you can use the outline and some of the content for inspiration. In fact using bits and pieces of your course to show off what's inside is a good way to create curiosity in your audience.
Some obvious content to plan on is free content in the form of blog articles, advice online or free PDF downloads. Just to any online course provider's website to get ideas.
These days it's fairly easy to create a thought piece in Word and convert it to a downloadable lead magnet. That brings us to the most valuable piece of content you should create…
3. Create a lead magnet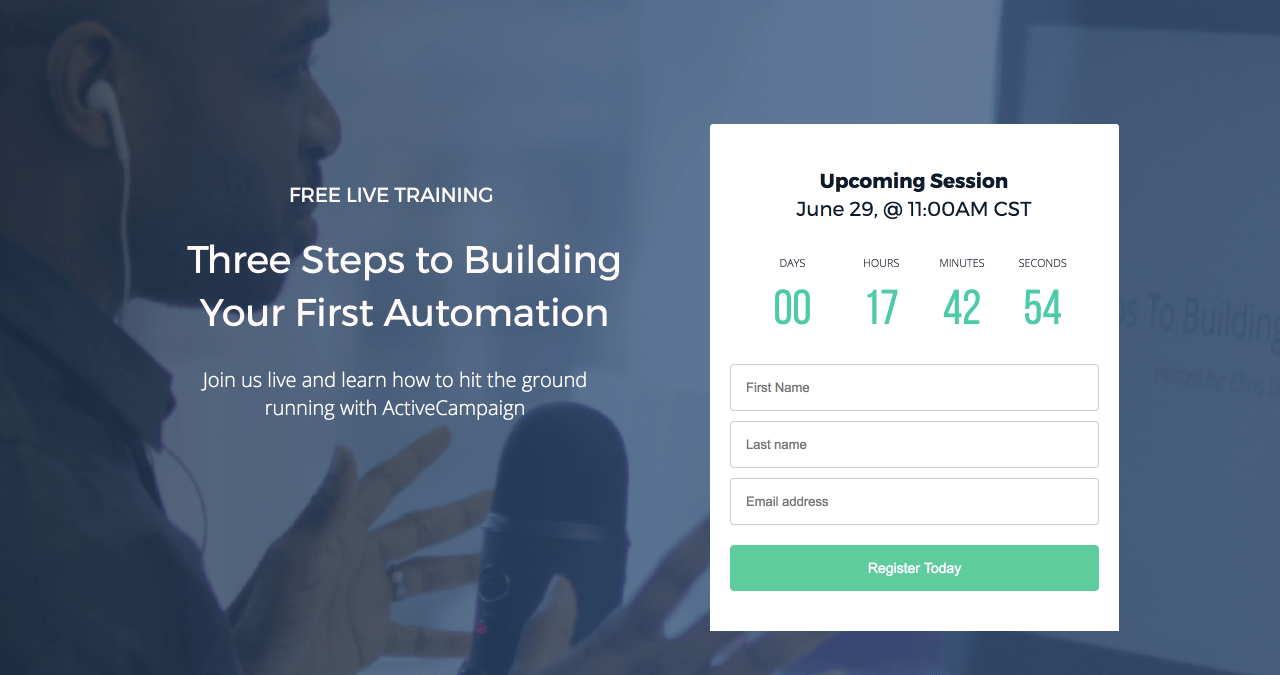 This step should be at the top of your list for how to grow your audience. Blog articles are great, but they don't capture email addresses! If you haven't done so, you need a lead magnet to grow your email list.
There are a LOT of articles out there about how to create a lead magnet, like this one from OptionMonster. So we won't regurgitate all of those ideas here.
You don't necessarily have to create a 10,000 word ebook. Easy lead magnets include cheat sheets, lists, how-to guides, survey research, and infographics (people love those!). Just make sure that whatever you create adds value and isn't just fluff!
4. Find influencers
This is another way to build your own audience that takes a bit of thought and time. The good news is that a lot of what you will do to find and build relationships with influencers will coincide with some other tips we suggest later. So put this on your list of to do's!
You'll need to identify influencers that can relate to your topic and work on forging relationships with as many as you can handle. You can reach out to influencers one by one, but a quicker way to develop relationships is to use an influencer marketing tool like InfluencerMarketingHub or any from this list.
Other ways to gather up influencers include:
hosting a webinar or podcast event with several influencers at once
Inviting them to do a guest blog or interview
Look on Instagram and Twitter at your followers and see who has a few thousand followers or more.
Research hashtags specific to your topic. Influencers that you identify this way are more likely to be interested in your online course.
Just remember though that often you have to pay influencers to promote your product. Depending on your own following and niche, you might be able to exchange something else valuable, like your online course!
5. Network with peers, experts, and collaborators
You're more likely to find influencers that you don't have to pay a lot or anything at all if you do a lot of networking. A lot of people hate networking. Again, it takes time and most of all, energy, to find and build a network.
We hate to break the news, but if you want to grow a serious online course business, you're going to have to network at some point.
As with all of these audience-building steps, you just have to start somewhere and do just that, "build". So maybe start with your LinkedIn network. Post an article on LinkedIn and invite them to comment. If you want to invest more, hire a lead generator to help to generate leads to build a network. Or, start conversations with people on social media and keep them up until you feel like they are part of your network and vice versa.
When you've identified people in your network that you can learn from or leverage and have built up a relationship, you can then invite them to participate in a webinar or invite experts to guest blog. Or have them provide early feedback on your course.
The point of building your network is multi-faceted in terms of building your audience. You can ask them to help promote your courses to their own audiences (like an influencer). You can offer affiliate relationships with some of them. You can even collaborate with them on content or course development.
6. Find affiliates
Udemy has its own affiliate program, but that doesn't mean that you can't go out and find your own affiliates. Certainly, if you are launching online courses outside of Udemy, you should devise a strategy to grow your affiliate base.
How do you do this?
First you have to create a tempting affiliate program (i.e. generous commissions) and reach out to qualified affiliates. Finding the right affiliates is not an easy task since there are hundreds of affiliates out there but not all of them can offer serious results.
Join affiliate forums and communities like Affilorama Community, and Clickbank that help connect you for free to marketers looking for products to promote. You should also be identifying bloggers and influencers (using the methods from Tip 4) in your topic niche and reach out to them to become affiliates.
Build a separate landing page on your website just for affiliates. Explain your incentives and offer affiliate sign ups. Then promote this page.
For a long list of more ideas for how to find affiliates check out this blog.
7. Guest blog
By blogging on other people's websites (or writing articles in printed publications) that have a high readership, you gain direct access to a wider audience than you would on your own blog. Just make sure that the website or publication that you are writing for has an audience that is relevant to your topic.
Hopefully, if you are networking, reaching out to influencers and so forth, it won't be a stretch to reach out to these same people and offer to guest blog.
Going back to step 1, remember that guest blogging takes time – not only to find people to guest blog for, but to come up with interesting topics and write the content.
One tip for guest blogging is to make sure that you create content that is easily shareable. And of course make sure that the content you write is your best material.
8. Podcasting
How do you build an audience of people who don't like to read? One way is through podcasting. It's widely regarded as one of the easiest kinds of content for audiences to consume because they just have to listen. They can listen while they work out, drive or sit in a waiting room.
Podcasts are also a good way to reach an audience with an auditory learning style. Many people with auditory learning styles listen to podcasts far more than they read or watch on a screen.
Don't have the faintest clue about starting a podcast? Here's a comprehensive guide. (we get no affiliate fee for this link)
The flip side to starting or hosting a podcast is for you to go on a podcast that deals with your niche. You can research these easily and as with all the other steps here start reaching out and asking to be on one.
9. Videos (YouTube and/or Webinars)
Clearly if you are creating online courses you are familiar with the importance of videos. And hopefully you've created a YouTube channel to promote your course or online school. Video marketing to grow your audience is simply a natural product of creating online courses.
You don't have to just use YouTube to reach an audience. You can use Instagram or post videos to your website.
To engage your audience, you can perhaps teach some concepts by video and see who reacts and appreciates what you are teaching. Then you can begin to interact with them and go from there.
10. Optimize your website for SEO
Search engine optimization (SEO) is essential for attracting traffic and a potential audience to your online course website. You need to make sure that your web content is optimized for search engines (basically Google).
In general, if you are going to be an "edupreneur" or "infopreneur" and be trying to build an audience via your own hosted website, it's a good idea to gain an understanding of SEO best practices.
The three main SEO strategies for ranking high in search are creating great content along your topic theme, using keywords strategically and obtaining backlinks. Once again this takes a lot of time and effort.
Don't know a lot about SEO? There's an easy solution – take a course on Udemy 🙂
Build an Audience – Conclusion
We've just pulled together 10 tips for building an audience, any one of which could take dozens of hours to get going. Don't fret. Just start somewhere. As we mentioned, much of the work you will do to tackle a few of these tactics will overlap with others.
That said, it's likely not enough to pick one or two of these tips and apply them here and there. Building an online audience requires consistency of approach and perseverance. As we said there's no magic bullet that will skyrocket your audience and follower numbers overnight.
If you're thinking about launching online courses, sure, Udemy does a great deal of marketing for you. But remember, Udemy is also marketing your competitors' courses. Outside of Udemy, competitors may be working hard to build their audiences, get people to enroll in their courses and benefit from better promotion and ranking on Udemy, Google and so forth.